Graduates, guests, family, friends and supporters can join in the excitement by tweeting, posting and sharing using the hashtag #UBCOgrad.
---
UBC Grad Gifts
UBC Bookstore is open for online orders!
---
Flowers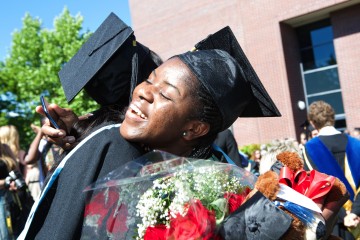 Please visit Convocation Flowers to pre-order a bouquet for your special graduating student.  The bouquet can be picked up at the upper and lower gym entrances on the day of the ceremony. Pre-made bouquets are also available for purchase on-site at Convocation.
Photography and Video
Photography services will be set up in the Courtyard for individual and family portraits on the day. Videos of the ceremonies will be available to watch on our archived webcast page.
Guest Seating
Due to the seating capacity of the gymnasium, students may submit RSVPs for their guests starting in September. This information is only for the purposes of ensuring that there are an adequate number of seats for guests.
No tickets will be issued for your guests. Seats are available on a first-come, first-served basis.
Accessible Seating
Accessible seating is available for people with limited mobility including wheelchairs and walkers. Due to limited seating capacity, the Accessible seating area will be able to accommodate one attendant per wheelchair user.
Please note: family members may drive their vehicles to the lower level of the gym to drop off guests with limited mobility. Parking is available with the other guests in the lots around campus.
Strollers
We kindly ask that guests do not bring strollers into the gymnasium as they block the aisles and violate the fire marshal rules. Stroller "parking" is available on the upper level of the gymnasium but users assume all risk with leaving strollers there.